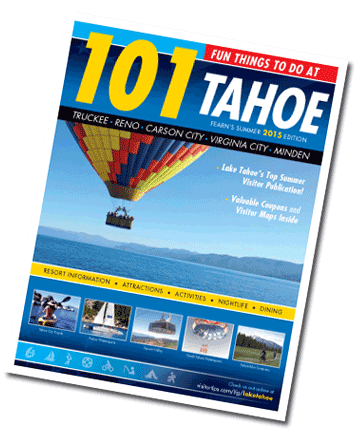 Greetings!
Thanks for your interest in 101 Fun Things to do at LAKE TAHOE - Lake Tahoe's top summer visitor publication! We're excited about the opportunity to welcome your business for the coming season.
How will you reach summer visitors this year?
It's always a question - which summer publication will you use? There are many to choose from, but one has stood the test of time and proven it's worth to hundreds of Lake Tahoe and Reno businesses, large and small, over and over again, year after year.
Unequaled Distribution is the Key...
Don't be fooled by the 'other' publications' claims... 101 Fun Things To Do In Lake Tahoe is published by Certified Folder Display, one of the largest visitor publication distributors in the country.

Over 300,000 free copies are distributed at over 600 locations around Lake Tahoe, Reno, Western Nevada, California, and beyond, giving advertisers more exposure than any other Lake Tahoe summer publication!
New for the 2015 Season!
We're excited to unveil an entirely new look for 101 Fun Things this summer - complete with new photography, a new and updated map, and expanded options for advertising space & sizes.
Surely you have questions, and rest assured we have answers! 
Before we begin, we'd like to know more about you. Please take a moment to complete and submit the form below. This information will help us be more familiar with your business when we talk to you about your ad, and allow us to customize an advertising package to fit your needs and budget.
As soon as we receive your form, you'll be directed to links to view and download the 101 Fun Things Media Kit.
We'll be in touch shortly to discuss the publication, pricing, your advertisement and artwork and, when the time is right, get the contract in place.
If you have specific questions, please feel free to provide them in the comment field below, or call Mark Appel, Regional Sales Manager directly at (530) 583-4206.
We look forward to the opportunity to work with you and to promote your business to hundreds of thousands of Lake Tahoe Visitors - all summer long!