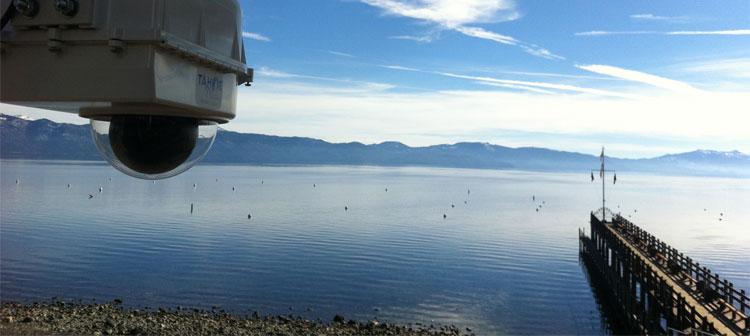 Live webcams put your business, destination, hotel, or attraction in front of the world, anytime, all the time, from anywhere, driving ongoing engagement, expanding audience, and long-term value for viewers and host locations.
Overview
A pioneer in the field, Destination Media Solutions has been serving live webcam images to the world from resort destinations for over 15 years. Our extensive network of Lake Tahoe webcams provides live views of Lake Tahoe to the world 24 hours a day, generating millions of impressions every year, and new camera locations, including Monterey's Cannery Row, Big Sur, and Santa Cruz are being launched regularly
Destination Media Solutions is proud to now bring the latest HD webcam technology to select destinations, resorts, towns, businesses and hotel properties. Our systems feature exceptional HD image quality, proven attraction power, and numerous possibilities for use of the stunning live visual imagery for the continuous promotion of the location and region.
Benefits & Value
The value that a well-placed, high quality webcam provides is long-term and compounding – far beyond what some still see only as fluff or candy for a website.
Engagement – A webcam image can be a strong element of relationships with your customers, before and after it begins, peaking interest and curiosity before, and continuing even after your initial interaction is complete.
Top Of Mind – A live webcam has the allure and appeal of a "now" event, driving people to look again and again at the scene from your location, even without provocation.
Customer Retention – Live webcams keep people interested and provide a passive interaction with your customers, maintaining and building the relationship over months and even years.
Vicarious Appeal – Many webcams – particularly at resort locations, provide an avenue for people to "be there" from far away and to share in the experience and dream of their future visit.
Search Results – As with video, webcam images, especially live streaming ones, provide higher probability in search results.
Viral Tendencies – Webcam images are popular items to share on social media. Links of the "live" image are valuable commodities for people to share.
Beyond Your Site – Webcam images, 'syndicated' to other websites provide extended exposure of your brand around the world.
Beyond The Web – Webcam images are valuable parts of mobile websites and apps, and can also be utilized on television and digital signage networks.
Broadcast Integration – Utilizing DMS' unique technology and proprietary configuration, webcam streams can be provided direct to broadcast stations for integration into news and weather programming, morning shows, etc.
Complete Streaming Webcam Packages
Destination Media Solutions provides our extensive experience to assist in finding the optimal location for installation of one or more webcams at your location. Working with your engineering/IT staff we will coordinate the installation and configuration of the camera, and provide complete setup and delivery of the camera images and code for placement of the live streaming video and images on your website and in other locations.
Contact us for a free consultation on the webcam possibilities at your location.